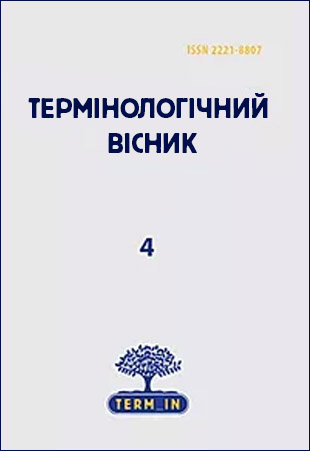 Founders
National Academy of Sciences of Ukraine,
Institute of Ukrainian Language of NAS
Publisher
Institute of the Ukrainian Language of National Academy of Sciences of Ukraine
Scientific journal Ukrainian Language is registered by the Ministry of Justice of Ukraine as print media (Certificate: Series КВ № 12180 – 1064 ПР of January 12, 2007).
Included in the list of printed scientific specialized editions of Ukraine (Order of MES of Ukraine no528 from 12.05.2015)
Back side of the journal
Nataliia Meкh
Information about the author: 
Doctor of Philology, Professor, Leading Researcher, Stylistic of Language Culture and Sociolinguistics Department, Ukrainian Language Institute of National Academy of Sciences of Ukraine of Ukraine (Kyiv, Ukraine); 
e-mail: mno_logos@ukr.net.
Title: Genre Sphere of Modern Ukrainian Research Communication
Rubric: Terminology of Linguistic and Related Sciences
Abstract: The article deals with the problem of studying and understanding the Ukrainian scientific communication, its genre sphere in modern globalized high-tech society. Various social and cultural challenges caused the appearance of computer communication or net-communication, quantative growth of which attracts scientists of different fields. The modern form of social life are called global, network, information society. Information society – this is a knowledge society where mass produced, distributed and used various means of information. Exchange of scientific information, ideas and knowledge between scientists, researchers and specialists in various areas of science plays a leading role in the development of modern society.
The concept of genre as a central category of discourse and text is separately highlighted. Different types of speech genres are shown. Genre sphere of scientific communication is outlined. The concepts of genres correlation with different types of discourse are of special attention. Scientific discourse as a complex communicative unit, which is thematically correlated set of scientific texts of different genre of implementation, due to socio-cultural influences and target setting communicants. The current stage of scientific communication is characterized by versatility of scientific style.
Analytical and critical review of the social and thematic direction of Genre Study– Lingvogenology of scientific communication is done in the article.
Keywords: genre, speech genre, science communication, genre sphere, scientific style, substyle. lingvogenologiya scientific communication.
References:
Nimchuk, V.V. et al (1989).

Zhanry i styli v istorii ukrainskoi literaturnoi movy

. Kyiv: Naukova dumka (in Ukr.).

Matsko, L.I., Sydorenko, O.M. & Matsko, O.M. (2003). 

Stylistyka ukrainskoi movy: Pidruchnyk

. Kyiv: Vyshcha shkola (in Ukr.).

Semenoh, O.M. (2012).

Kultura naukovoi ukrainskoi movy

. Kyiv: Akademiia (in Ukr.).

Shulinova, L.V. (2005). Zhanrova dyferentsiatsiia naukovoho styliu suchasnoi ukrainskoi literaturnoi movy.

Aktualni problemy ukrainskoi linhvistyky: teoriia i praktyka

, 2005, Vyp. 11, 79–84 (in Ukr.).

Iakhontova, T.V. (2014).

Linhvohenolohiia suchasnoi nauky (na materiali anhlomovnykh tekstiv)

[Synopsis of PhD thesis]. Kyiv (in Ukr.).
Legends 
Slovnyk ukrainskoi movy (Vol. 1–11). (1970 – 1980). Kyiv: Nauk. dumka (in Ukr.).
Ukrainska mova. Entsyklopediia. (2007). Kyiv: Vyd-vo Ukr. entsykl. im. M.P. Bazhana (in Ukr.).